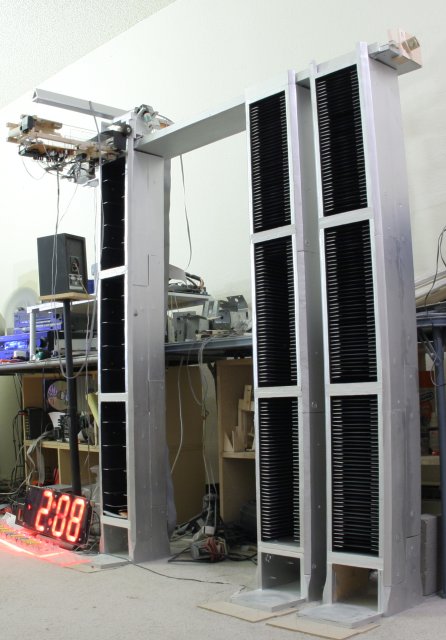 After years of being too poor to afford a $20,000 robot, we built Heroine 2200. Heroine 2200 was the ultimate optical disk organizing robot. She stored disks in the most intuitive way: in the ultimate DVD towers.
Heroine 2200 was quite possibly the cheapest yet strongest method of DVD organizing ever made. Once the initial expense of the sled and crane were overcome, each tower consumed only $30 of building materials in 2004.
Falling hard drive costs & tripling rent put Heroine 2200 into the scrap heap, but in the old days, a hard drive server would need a standby mode and dual redundancy. Expanding the server at the rate Heroine 2200 has expanded would require constantly rebuilding it because standards are always changing. Each tower stores 1TB. Dual 1TB hard drives for each tower would have to be pretty cheap to outdo Heroine 2200.
Because of the limited justification and high cost, there is no drive loading mechanism. Instead, a human loads and stores up to 12 DVDs in a loading tower and the robot does up to 12 transfers between the low density loading tower and the high density storage towers.
The number of storage towers is variable and built in a go-as-you-can-afford-to-pay approach. The storage towers are on the right and the loading tower is on the left. The handling of disks, once they are in the loading tower, is entirely up to the robot. The crane travels horizontally along the top of the towers and the sled travels vertically on the towers.
THE LOADING TOWER: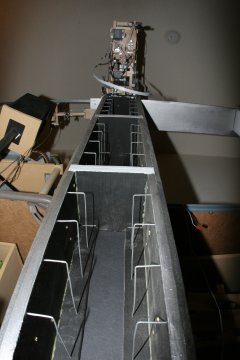 THE SLED: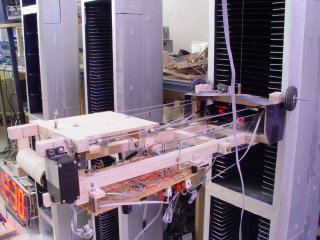 The sled stores and retrieves disk pancakes from the tower.
THE CRANE: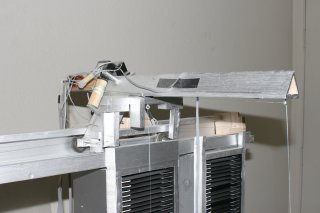 The crane moves the sled between towers and lowers it to the right row.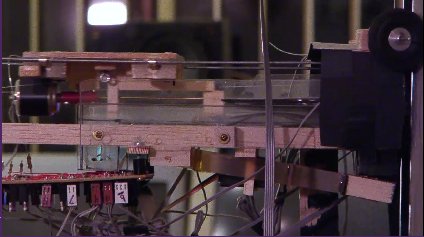 1280x720 movie of Heroine 2200. 148 MB


(C) 1997-2017 Starving, flat broke Programmers
Hosted all these years by Sourceforge